From Kurimanzutto's final '
SIEMBRA
' exhibition to Roger Muñoz's cartoon-inspired paintings, these are the must-see shows in CDMX
BY GABY CEPEDA
IN CRITIC'S GUIDES , EXHIBITION REVIEWS | 04 NOV 21
Julieta Gil, Hombres Ilustres, 2021, video still. Courtesy: the artist and Campeche, Mexico City
Julieta Gil
Campeche
5 November 2021 – 29 January 2022
For Mexico City's Gallery Weekend, newcomer Campeche unveils its second show in CDMX: a solo exhibition by Julieta Gil. The young artist recently garnered attention for her work Nuestra Victoria (Our Victory, 2020), which responded to Mexico's feminist uprising of 2019. Gil created lush images from 3D scans of the The Angel of Independence monument covered in protest graffiti – slogans that were primarily witnessed via photographs, since the government had the daubings whitewashed almost immediately. At Campeche, the artist's solo show, 'Revertir el Degaste' (Reverting Wear), continues her exploration of the historical shapes and layers of the city's street art and visual culture, documenting political activities while also experimenting with sculpture, architecture and installation.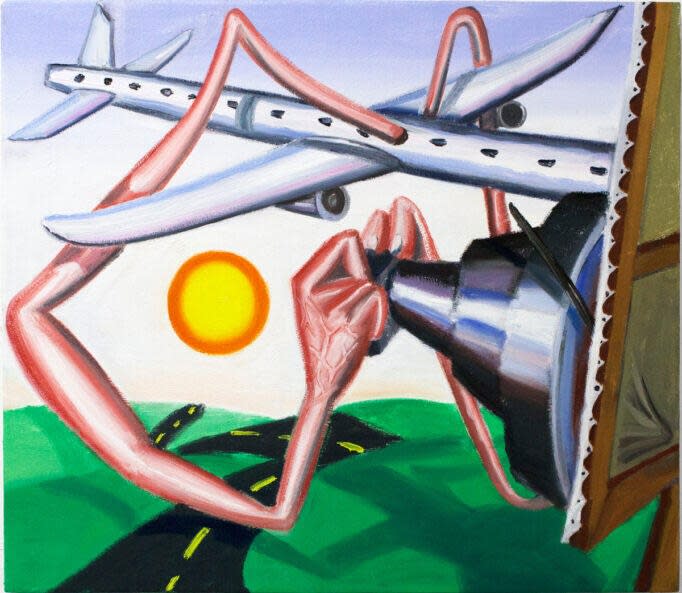 Julio García Aguilar, High Season, 2021, oil on canvas. Courtesy: the artist and Ladrón Galería, Mexico City
Julio García Aguilar
Ladrón Galería
5 – 30 November
Julio García Aguilar's 'The Long Boom' at Ladrón Galería is the young artist's second solo exhibition. Aguilar, who hails from Oaxaca, creates colourful and striking oil paintings that are boisterous representations of the banality of power and the foolishness of rash decision-making. His images depict elements lifted from Looney Tunes cartoons. Elmer Fudd's ridiculously long and twisty shotgun, always threatening to turn on its shooter, appears in a few works as in Frack (2020), as does Bugs Bunny in High Season (2021), here contorted into a mean-faced airplane that crash-lands onto a zig-zag landing strip. García Aguilar's thick, oily impasto, coupled with the simplicity of his figures, evokes the mid-20th-century Mexican muralists, who shared the artist's fascination with the many shapes of imperialism, industrialization and oppression.
Adrian Villar Rojoas, Untitled VI (from the series 'Rinascimento'), 2015–ongoing. Courtesy: the artist and Kurimanzutto, Mexico City
'SIEMBRA'
Kurimanzutto
23 October – 11 December
After cycling through 11 iterations since it was launched in February 2020, the time has come for 'SIEMBRA' – Kurimanzutto's ambitious exercise of subdividing its airy space into separate booths assigned to different artists or galleries – to take its final bow. Thankfully, the project's last instalment includes one of its more exciting line-ups, pitting small-scale solo offerings by emerging names, such as video artist Paloma Contreras Lomas and Oaxacan painter Jou Morales, alongside well-known figures like Eduardo Abaroa, Mariana Castillo Deball, Mariana Tellería and Adrián Villar Rojas. While 'SIEMBRA' regularly suffered from mismatched levels of enthusiasm between emerging and established artists, it would appear that the benefit of hindsight has allowed for a more balanced farewell show.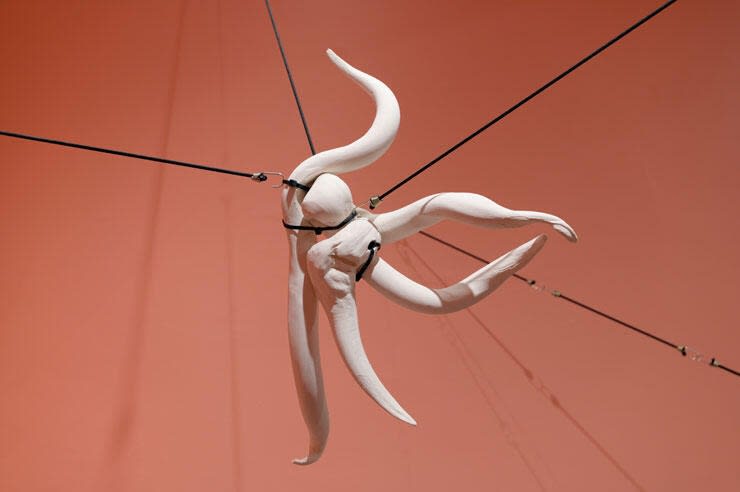 Kristina Reger, 'Burst', 2021, exhibition view, Salón Silicón, Mexico City. Courtesy: the artist and Salón Silicón, Mexico City; photograph: PJ Roundtree
Kristin Reger
Salón Silicón
3 November 2021 – 2 January 2022
In her latest solo outing, 'Burst', at Salón Silicón, the Chicago-born, Mexico City-based artist Kristin Reger continues her sculptural investigations into bodily form to explore why we grow old and sick and how we slowly decompose after death. Such existential questions have always floated around Reger's practice, but this time she brings them into her personal life. The show takes as its subject the passing of her father, Bob, who died of brain cancer earlier this year, prompting Reger to look deeper into his legacy as an activist.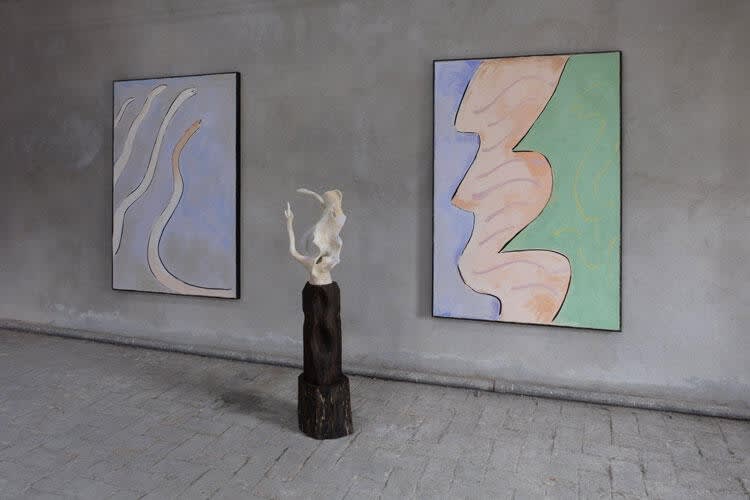 Lorena Ancona, 'Sharper Than a Serpent's Tooth', 2021, exhibition view, LLANO, Mexico City. Courtesy: the artist and LLANO, Mexico City; photograph: WhiteBalance MX
Lorena Ancona
LLANO
4 September – 7 November
Lorena Ancona's exhibition at LLANO, 'Sharper than a Serpent's Tooth', showcases a group of sculptures and ceramics that form a very tight, focused body of work. Her practice is rooted in the pre-Hispanic visual culture of the Mayans: the people who populated Quintana Roo, the state where she was born, which is today perhaps best known for the spring-break culture of cities like Cancún and Tulum. For this exhibition, Ancona has created beautiful hanging clay and rope sculptures, such as Serpiente y Quijada(Serpent and Jaw, 2020) based on representations of sacrificial tools, and paintings made with traditional pigments plastered on stucco, such as Sharper than a Serpent's Tooth (2021).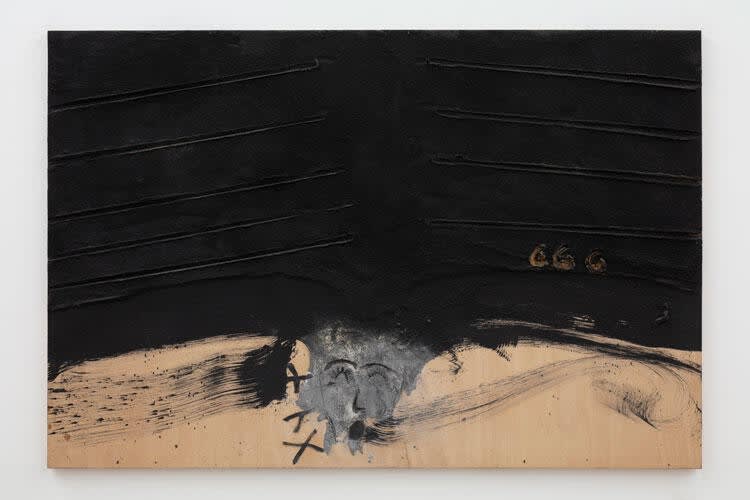 Antoni Tàpies, Cap-666, 1990, mix media on wood, 200 x 300 x 5 cm. Courtesy: the artist and Galerie Nordenhake Stockholm, Berlin and Mexico City
'666'
Galerie Nordenhake
22 October – 4 December
This three-person show – which includes the work of Mexican sculptor Tomás Díaz Cedeño, German photographer Michael Schmidt and Spanish painter Antoni Tàpies – takes its name from one of Tàpies's canvases, Cap-666 (Head-666, 1990), which features a cross-eyed, disembodied, grey head lying on the floor. The show succeeds in bringing this multi-generational group of artists together: it is a revelation to realize how well Díaz Cedeño's ritualistic, witchy sculptures work with Schmidt's angsty black and white portraits and images of empty cities, or Tàpies's austere-hued, material-heavy paintings. An exercise in the unexpected, the show aptly highlights the ominous nature of the different aesthetic languages these three artists speak.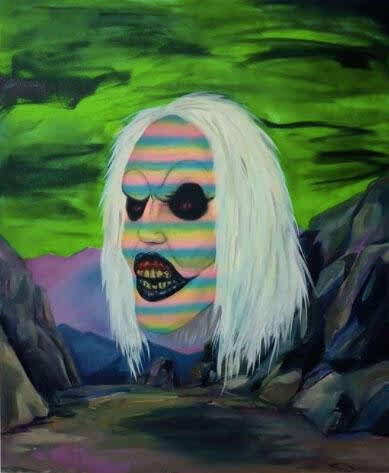 Roger Muñoz, Reencarnación de Anti-Madre (Travesti con boca de fumadora) (Anti-Mother Reincarnation [Transvestite with a smoker's mouth]), 2021, oil on canvas. Courtesy: the artist and NIXXXON, Mexico City
Roger Muñoz
NIXXXON
23 October – 12 December
Born in Costa Rica but now based in Mexico City, painter and provocateur Roger Muñoz brings an acerbic, low-brow wit and pop-cultural aesthetic to his airbrush and oil paintings, his intriguing sculptural objects, and the demeanour of his collaborator/drag alter-ego, Lic Sniffany Garnier Odio. Comparatively minimalist, the works in this show, 'Veneno para las hadas en las fauces de un viejo maricón' (Fairy Poison in the Jaws of an Old Fag), comprise only two sculptures, one of which is a small-headed sphinx sporting an expensive manicure (Esfinge TV Según Sniffany [Sphinx TV according to Sniffany], 2021). Alongside it hangs Reencarnación de Anti-Madre (Travesti con boca de fumadora) (Anti-Mother Reincarnation [Transvestite with a smoker's mouth], 2021), a painting of a bodiless, Medusa-like figure, her head floating in a dystopic winter landscape against a green and black cloudy sky, while her face sneers, perhaps even growling into the void.
November 4, 2021