Gaby Cepeda
In the wake of budget cuts and pandemic restrictions, institutions look to a new generation of local artists
Finally, the COVID-19 pandemic is allowing some normalcy to seep back into Mexico City's art scene. Although meetings of more than three people are still conducted via Zoom, museums are open, art fairs are returning, and the artworld is once more enjoying its usual comings and goings. But during the pandemic's harshest moments, things were not easy for the imported exhibitions that have long made up a significant part of Mexico City's museum programming.
Many were canceled because of chaotic logistics; others were dropped due to the brutal budget cuts that Mexican President Andrés Manuel López Obrador's policies imposed on the cultural sector in 2019: State-funded institutions were expected to continue with a mere quarter of their usual allocated resources. According to Doreen Ríos, the chief curator at Centro de Cultura Digital, the pandemic only compounded the effect of the cuts. 'The uncertainty was the worst,' she says. 'We have been doing fewer shows, but also constantly rethinking what we can do with the resources at hand.'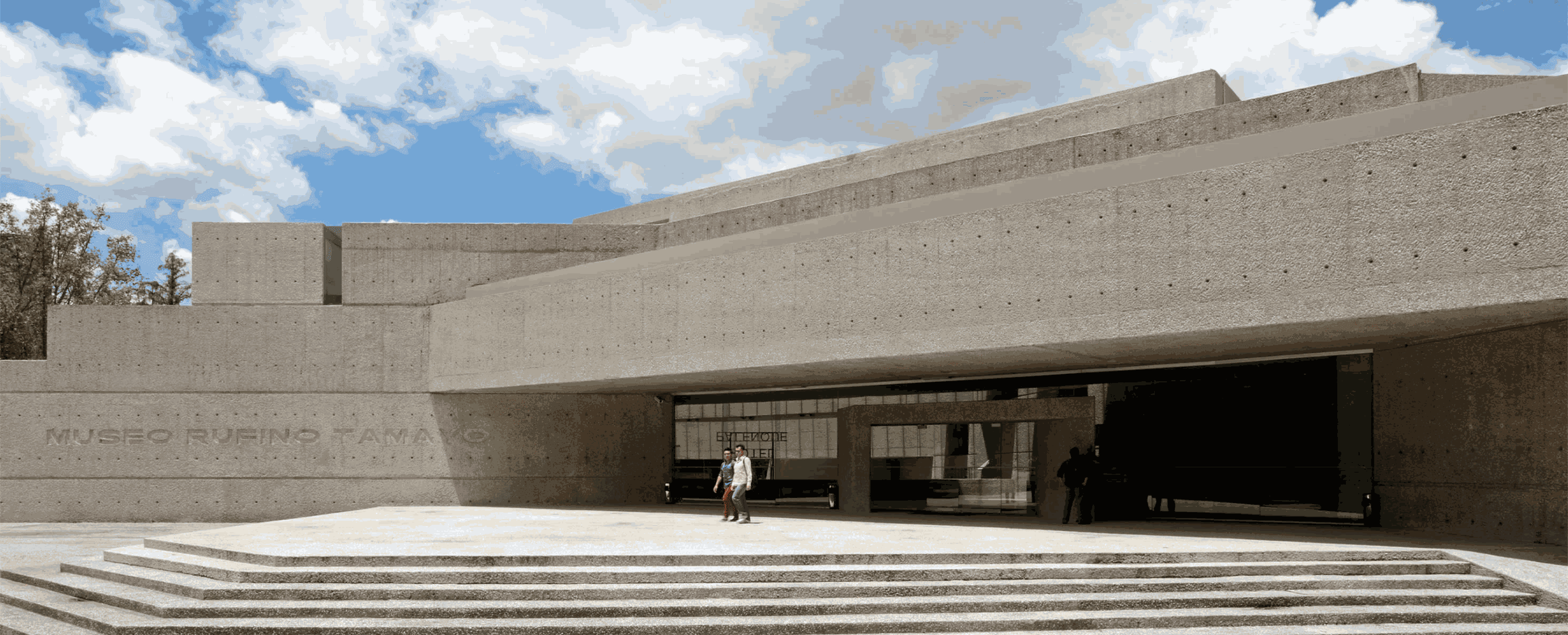 Such conditions forced art spaces to look more carefully at young, local art practices. This resulted in two of Mexico City's better-known museums, Museo Tamayo and Museo Jumex, and one of Mexico's largest galleries, Kurimanzutto, mounting shows aimed at emphasizing a new generation of artists and hopefully cementing the role it plays in constructing and maintaining contemporary Mexican art in a time of utter crisis.
The first was 'Otrxs Mundxs' ('Other Worlds') at Museo Tamayo, which from November 2020 to April 2021 combined the works of more than 40 artists – some of them well known, others showing at a museum for the first time. The exhibition structured itself on a theoretical framework of four rather sweeping concepts – capitalism and domination; seriality, identity, and obliteration; entropy, speculation, and visualization; and lastly, body and materiality.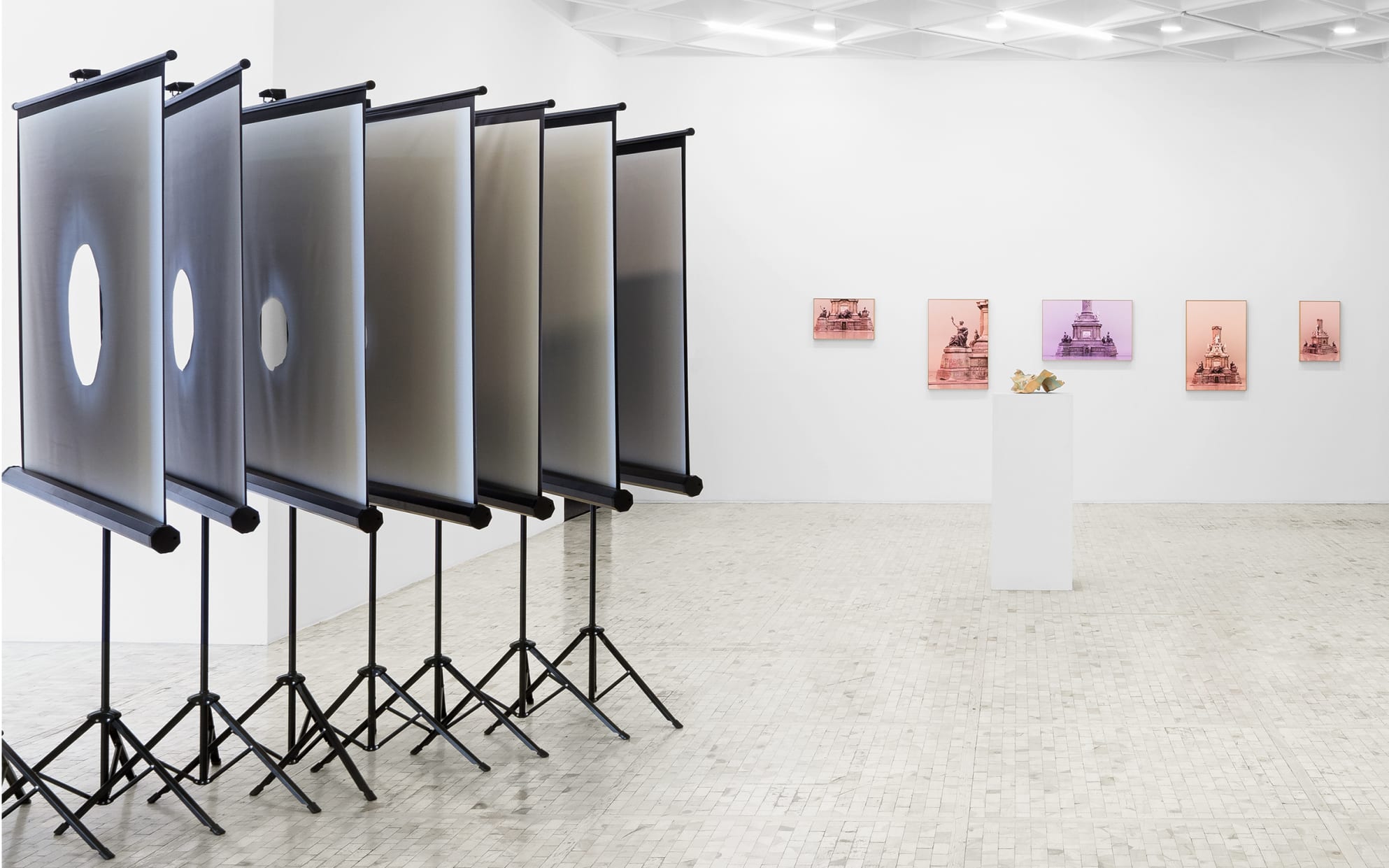 Installation view of 'Otrxs Mundxs', Museo Tamayo, Mexico City, 2020 - 2021. Shown here are works by Miguel Calderón (left) and Julieta Gil (right). Courtesy of Museo Tamayo, INBAL. Photo by Gerardo Landa and Eduardo López for GLR Estudio.
Although these themes are buzzy artworld favorites, they mostly muddled possible dialogues between the pieces juxtaposed in crowded spaces. This was evident in a corner packed with artist and filmmaker Miguel Calderón's Hypnotic Screen 2 (2020), a row of 14 freestanding projection screens with increasingly larger holes cut into them, and The Balance of Improbabilities (2017), his series of 13 photographs of decaying tourist sites. Calderón, now 50, cofounded the 1990s art space La Panadería and was long known as an enfant terrible. Next to these was 34-year-old Julieta Gil's Our Victory (2019–20), four pink images of digital renderings of the Angel of Independence, Mexico City's most recognizable monument, covered in feminist protest graffiti.
Emerging artists seemed to add relevance and clout to the established artists the museum has long dedicated itself to, and by drawing lines between the established and the young, Museo Tamayo was looking to anchor its legacy in the unclear future the pandemic has exposed. The lines were sometimes tenuous, but for Madeline Jiménez Santil, an emerging artist in the show, this strategy made sense, and luckily it was also paired with generosity. 'The conceptual structure ended up being the least important aspect to me, the main gesture being the institutional recognition of what was happening in the local scene – a willingness to see the snowball coming at them,' she says.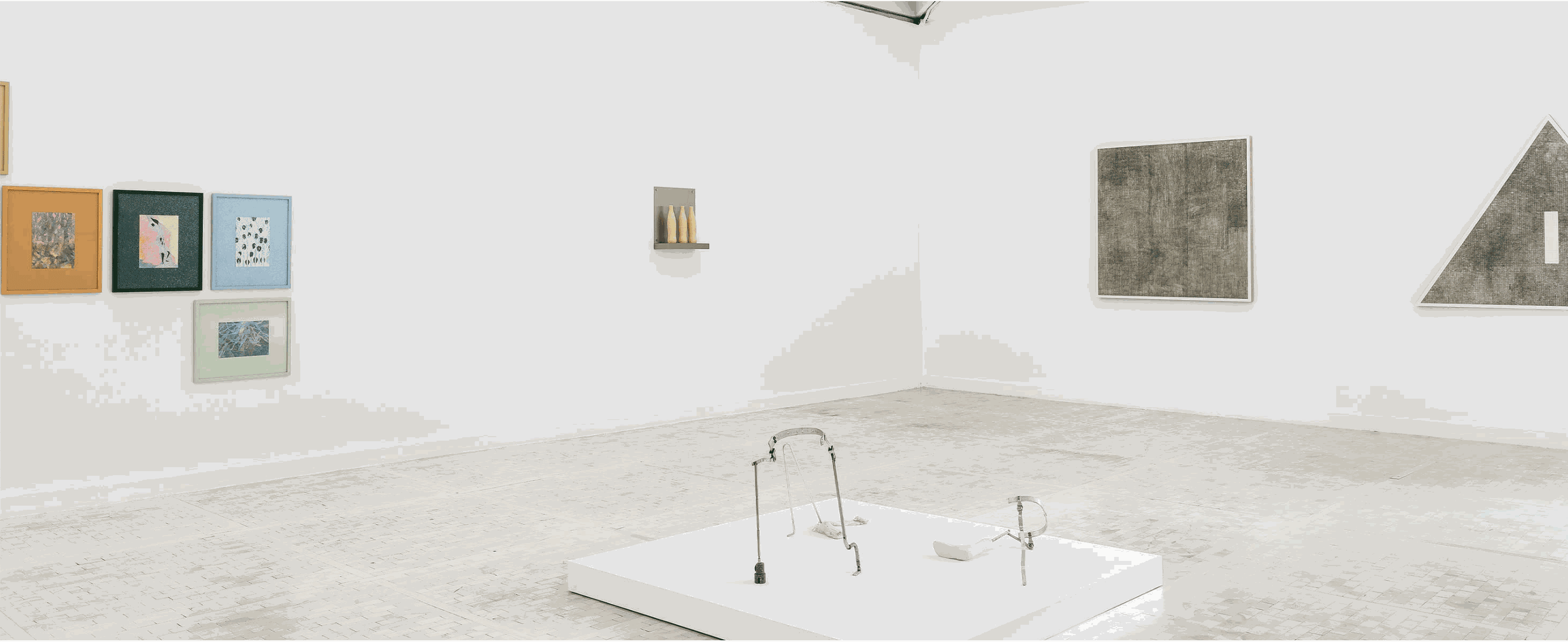 Opening almost back-to-back with Tamayo's exhibition, Museo Jumex's 'Normal Exceptions: Contemporary Art in Mexico' purportedly presented a panorama of art recently made in the country. Although described as a revision of its collection to commemorate the 20th anniversary of the creation of Fundación Jumex (the entity that preceded the museum's opening in 2013), the show was unusual in that 60% of the works were loans. Mexican critic Edgar Hernández wrote in a review that 'Normal Exceptions' highlighted how once Museo Jumex came into existence, the institution began to focus on mostly imported blockbuster exhibitions and its collection became less of a priority.
To fill the gaps, Jumex borrowed from emerging artists as well as artists collected in the past. An example of the former was Chantal Peñalosa's Unfinished Business Garage I/V (2019), a material reflection on the complex and powerful legacy of Tijuana artists from the 1990s and 2000s. Meanwhile, an example of the latter was Yoshua Okón's República Bananera (2019), a fiberglass sculpture of a charred elephant intended as a critique of the colonial-lite ambiance of retail stores like Banana Republic.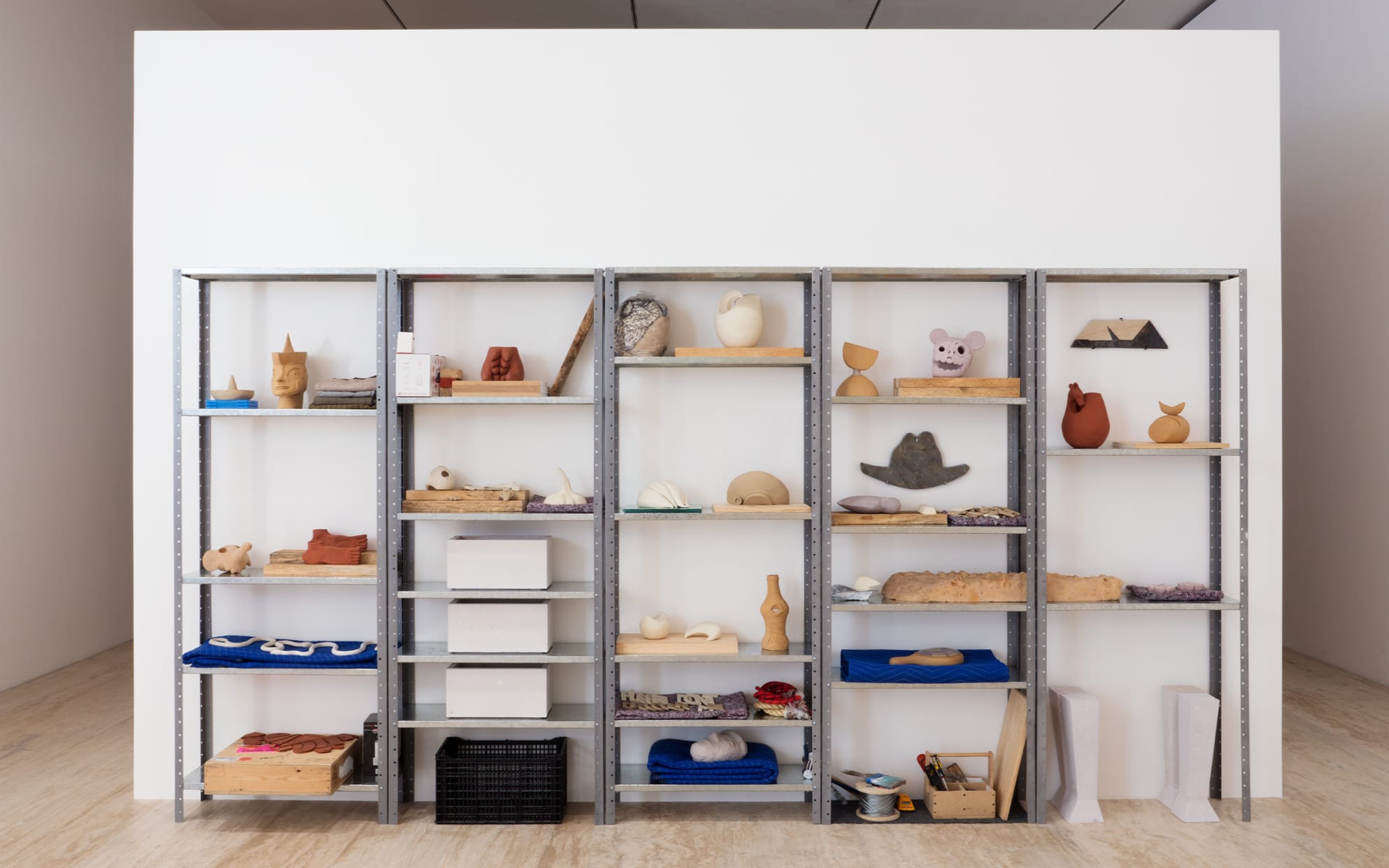 On the gallery side, Kurimanzutto, also commemorating 20 years, had just opened its exhibition experiment 'Siembra' ('Sowing') in February 2020 when the pandemic hit. Alluding to the cycles of agriculture, the show divided Kurimanzutto's galleries into seven smaller spaces allocated to individual artists and collectives to use during an open period of time dictated only by the cross-pollination of creative processes. It looked like a fancy art fair, with impeccably installed booths and discrete discourses. Emerging artists pushed their own agendas and aesthetics, as did more established ones like Carlos Amorales and Gabriel Orozco. Highlights included YOPE's 'Loma Bonita', a group show by the Oaxacan project space that filled its tiny booth with the anarchic energy of genuine youth.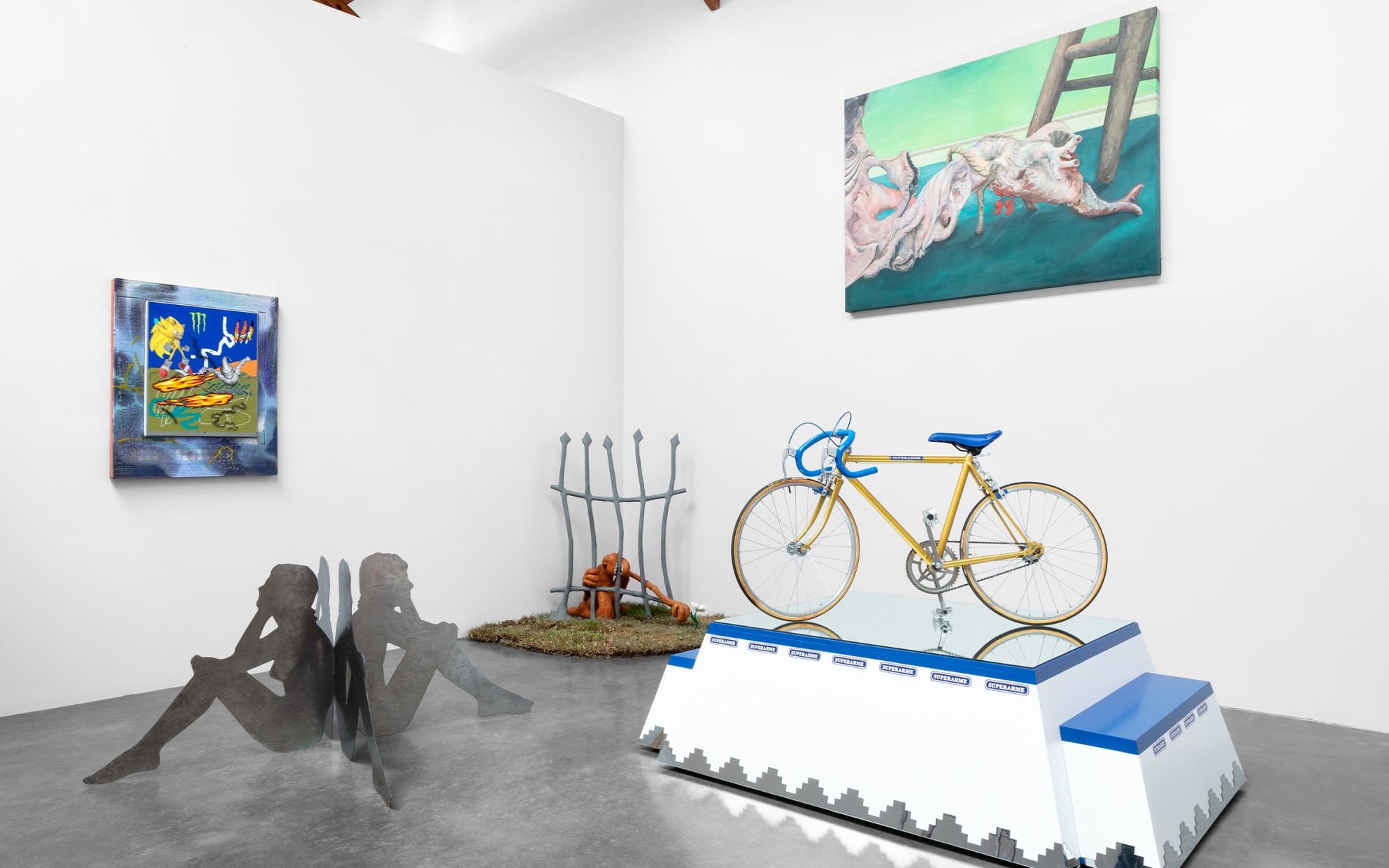 YOPE project space, installation view of Siembra 23, Loma Bonita, kurimanzutto, 2021. Courtesy of the artists and kurimanzutto, Mexico City and New York City. Photo by Gerardo Landa Rojano.
Paloma Contreras Lomas, an artist who showed works in both 'Otrxs Mundxs' and 'Siembra'(her sci-fi-infused art will also be on view in a solo presentation in Art Basel Miami Beach's Positions sector), considers the exhibitions as major opportunities. 'It's an experience that I don't think would have happened, paradoxically, without the pandemic opening up these resources for younger work,' she says. And lately, more art spaces in Mexico City are dedicating themselves to exhibiting just that: Early November's Gallery Weekend felt extra-energetic, with people obviously excited to be able to share a collective experience of art again. Campeche Gallery, established in 2020, has just opened a show of Gil's work. 'It's important to not only focus on younger artists, but to give them space to grow and experiment, and that means fostering younger collecting as well,' says its cofounder Fátima González.
The recent institutional embracing of emerging art but only under the careful auspices of established art revealed a disconnect in which younger artists' works look distant from the blue-chip-ness of their established peers, even in the same room. But the past year's experiments give hope that Mexico City's art institutions will allow themselves to be more adventurous in more normal times as well. Despite reduced budgets, bridging the generations is precisely what the city's museums are now equipped to do – by going for smaller gestures, deeply researching and contextualizing the work of emerging Mexican artists, and more seriously collecting and investing in them. As the pandemic lingers, that would be a legacy worth cementing.
Gaby Cepeda is an independent curator and arts writer.
Art Basel in Miami Beach's Meridians sector will be curated by Magalí Arriola, Director of Museo Tamayo. Paloma Contreras Lomas, whose work will be on view in the Positions sector, is represented byPequod Co., Juárez Mexico.
Captions for full-bleed images: 1: Installation view of 'INSITE: Speech Acts', as part of the exhibition 'Normal Exceptions: Contemporary Art in Mexico', Museo Jumex, Mexico City, 2021. Photo by Ramiro Chaves. 2. Museo Tamayo in Mexico City. Photo by Jorge Silva. 3. Works by Madeline Jiménez Santil, on view in 'Otrxs Mundxs', Museo Tamayo, Mexico City, 2020 - 2021. Courtesy of Museo Tamayo, INBAL. Photo by Gerardo Landa and Eduardo López for GLR Estudio. 4. Installation view of Daniela Rossell's Third World Blondes (Harem Room), 2002; Third World Blondes (Deborah with Flower Pot), 2002; Third World Blondes (Janita in her Father's Office), 2000; Third World Blondes (Raquel in her Living Room with Goat), 2002, La Colección Jumex, México, on view in 'Normal Exceptions: Contemporary Art in Mexico', Museo Jumex, Mexico City, 2021. Photo by Ramiro Chaves. 5. Installation view of works by Paloma Contreras Lomas, on view in 'Otrxs Mundxs', Museo Tamayo, Mexico City, 2020 - 2021. Courtesy of Museo Tamayo, INBAL. Photo by Gerardo Landa and Eduardo López for GLR Estudio.
©2021 Art Basel
November 11, 2021